White grapes
Roussanne :  2,16 hectares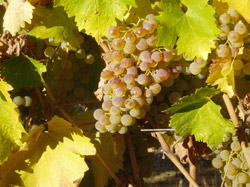 Roussanne is one of the most important white grape varieties in the Rhône valley. It derives its name from the light-brownish russet ("roux" in French) colour of the fruits when ripe. The fruit is of a firm, balanced acidity and potentially high in alcohol with delicate floral aromas and excellent structure. It yields elegant, complex wines of considerable finesse with flavours of melon, sweet white fruit, pears, tree blossoms and flowery herbal tea. When aging, it develops notes of honey, coffee, flowers and almonds. When it is blended with other white grapes (white Grenache, Clairette…), its delicacy and finess adds to the final bouquet. Roussane ages very well. The Roussane vines were planted  at Tara 15 years ago, are trained on two wires, and cover a surface of 2.4 hectares. Vines are spread over several parcels of land contributing to the richness and the variety of the final blends.
White Grenache : 2,3 hectares
It is France's third most important white variety. When the yield is intelligently restricted, the fruit offers abundant fruit extract and alcohol. Properly vinified at low temperatures it yields an attractive, fleshy, generously fruity wine with a fragrance of flowers and dill. White Grenache at Tara is 15 years old, trained on two wires, covers a surface of 2.35 hectares on two parcels of land, one in the upper part of the estate, the other one at the foot of the hill.
Clairette : 0,9 hectare
An extremely old southern plant well adapted to poor soil, Clairette is used for some "muscats" and for sparkling wines and is often blended with other grape varieties in Provence. Clairette gives a high degree of alcohol ; careful vinification results in light, fruity, floral, fleeting wines with aromas of peach, apricot, plums and melon. Clairette at Tara is 15 years old, trained on two wires, covers a surface of 0.9 hectare in the north part of the estate.